> Real Synthetic Audio is the most listened to Industrial net-radio show.
> RSA for January 26th is now online!
Fingers crossed, I've been healthy for a complete week. Winter must be coming to a close. Either that or I've avoided enough humanity lately. But we've got a great new show this week with some new personal favorites, including a possible personal replacement for SPOCK... This weeks show includes tracks from Avarice In Audio, Neuroticfish, Sonik Foundry, XMH, DYM, Cosmopolite, Crom, and Stars Crusaders. Enjoy the show!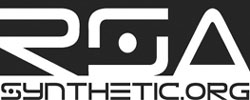 > RSA Podcasting and site Blog
I've updated the method that we do podcasting here at RSA. Now you can get each weeks show automatically downloaded to your PC or MP3 player by subscribing to the RSS feed. Simply subscribe through iTunes or Juice and each week the show will be fed to you as soon as it's available. Also, there is now an RSA Facebook group for you all to join and a Twitter account to follow!
> 2014 Friends of RSA!
The following people have joined the elite group known as the friends of RSA for 2014!
Raymond Thietart, Rick Tarbox, Sarah Pugliaresi, Mark Matson, Alexander Martinelle, Robert Rossi, Christer Kaivo-oja, Maree-Louise Tobin, Peter Dedek, Alex Freeman, Sven Erik Sørensen, Ronald Carreira, Rikard Karlsson, Andreas Schoenauer, Jan Luebbe, Paul Lukianchuk, Salpy Kelian, Johannes Schroeder, Peter Anthamatten, Nigel Stapley, Ted Badiuk, Eric Hanson, Robert Ganz, Natasha Nolle Myers, Shishkov Anton, Allen Greer, Stan Nikipierowicz, Alexandre Place, Ryann Callaghan, Magne Lilleberg, Walter Scheirer, James Moreland, Daniel Steinke, Michael Virks, Spencer Bedell, Nathalie Mahieu, Michael Ridenour, Blair Hoplight, Shawn Lauriat, Wolfram Joost, William Wade, Matthew Zofchak, Bruce Hearns, Scott Noble, Dave Kozachuk, Siobhan Barr, John LeSanche, Patricia DeRoy, Catherine Vizmuller, Markus Gerstner, Galen Loram, Henning Hoefer, Robert Torres-Miller, Dale Fisher, Francois Denommee, Michael Moyle, Oliver Huber, Llew Thomas, Clarissa Cook, Howard Eberhart, Mikael Enkvist, James Morton, Carl Phillips, Scott Lange, Jeffrey Kaplan, Ingo Jahn, Sean Patrick Waters, Holger Heymanns, Michael Pipkins, Francis Mutchler-Lee, Joni Fuenmayor, Constantin Adam, Jackie Walker, Larry Loesch, Andreas Magnusson, Manuel Huber, Krys O'Dell, Memento Mori Theatricks, Wyatt Dorn, Mike Hodson, Shawn Wright, Michael Metzger, Ryan Reynolds, William Antal, Matthew Wolf, Brett Bartosavage.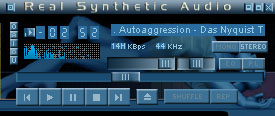 > Real Synthetic Audio Winamp Skins!
Michael Ridenour has made up the very first RSA themed Winamp skin! Download your copy by heading over to the goodies page! We're always looking for new submissions for all the categories there. Skins, Desktops, and banners!
> RSA T-Shirts sold out!
Well that sure didn't take long! The RSA shirts for 2008 have officially sold out. Very encouraging for me too, as the order placed was nearly double the amount sold in 2006. We're going to have to see about getting a new design and stuff made up for 2009! Thanks to everyone involved!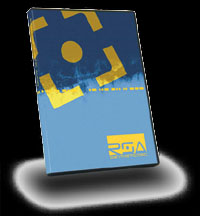 > RSA Archive DVDs v2.0 are gone!
With the advent of all of the old shows being put online, the RSA archive DVDs have been phased out and are no longer available. However, each year as part of the membership drive newer versions will be given away as prizes. Stay tuned for next years membership drive!