> Real Synthetic Audio is the most listened to Industrial net-radio show.
> RSA for January 15th is now online!
Its about at this time every year that I start getting a bit of cabin fever and the itch to ride my bike gets bad. But this year I have made a commitment to make the 20th anniversary membership drive extra special, and the shows will be live (and posted here for posterity) so I can't escape to my parents place in Florida. But that just means I have plenty of time to work just that bit extra hard on RSA while I pine for the fjords. Hopefully a good number of you have taken the time to watch the RSA Documentary. I hope you enjoy it as much as you're going to enjoy... This weeks show includes tracks from Rroyce, Eisfabrik, Implant, C-Lekktor, Chainreactor, Celldweller, Val Solo, and The Saint Paul. Enjoy the show!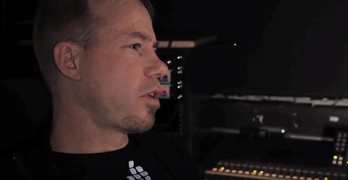 So a little over a year ago I was approached by this guy who wanted to do a documentary about me & RSA. I figured nothing would come of it, but you never know. Unlike a lot of things that have never actually happened in the last 20 years, I can now say there's a video chronicling how my radio show came about and what goes into making it. Kevin McMillan worked hard on it, I hope you enjoy it!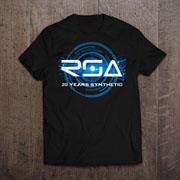 All of the 20th Anniversary pre-sale shirts have been shipped and delivered, so I can now sell the few extras that I ordered. You've missed the pre-sale price, but you still have a chance to get in on a peice of history! I hope you join me in celebrating 20 years of RSA goodness by wearing your fandom for the world to see!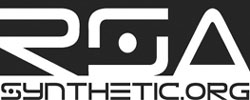 > RSA Podcasting and site Blog
I've updated the method that we do podcasting here at RSA. Now you can get each weeks show automatically downloaded to your PC or MP3 player by subscribing to the RSS feed. Simply subscribe through iTunes or Juice and each week the show will be fed to you as soon as it's available. Also, there is now an RSA Facebook group for you all to join and a Twitter account to follow!
> 2017 Friends of RSA!
The following people have joined the elite group known as the friends of RSA for 2017!
Sean Patrick Waters, Gord Clement, Shazia McCormick, Jarno Elovirta, Matthew Vaughan, Michael Ridenour, Robert Ganz, Jonathan Cameron, Michelle Crawford-Bewley, Raymond Thietart, Nigel Stapley, Ryann Callaghan, Gabrielle Cyr, Rene Ossenkopp, Thomas Rathsfeld, Dale Fisher, Jeffrey Kaplan, Jeremy Bailin, Nathalie Mahieu, Alexander Martinelle, William Crowe, Mike Hodson, Anthony Syhlonyk, Markus Gerstner, Peter Anthamatten, Johannes Schroeder, Arica Rust, Steven Weidner, Martin Oellermann, Nick Boldt, Steffen Roßhirt, Salpy Kelian, Ted Badiuk, Kyle Yencha, Magne Lilleberg, Walter Scheirer, Patricia DeRoy, Mark Yeddeau, Michael Sullivan, Francois Denommee, William Stimson, Joseph R Rider, Michael Pierry, Ryan Zastrow, Chris Godbold, Bruce Hearns, Tony Colter, Francis Mutchler-Lee, Mark Matson, Howard Eberhart, Brock Burgess, Clarissa Cook, Shawn Lauriat, Michael Thomas, Michael Virks, Isaias Mares, Scott Noble, Christer Kaivo-oja, Alexandre Place, Michael Gindonis, Alan Drehmel, Scott Lange, Erik Fjeldheim, Mikael Enkvist, Niklas Johnson, Kevin McMillan, Don Maynard, Niko Lindqvist, James Moreland, Llewelyn Thomas, John Baker, Wendy Procter, John Gorham, John LeSanche, Richard Valler, Michael Moyle, Matthew Fealy, Kevin Burke, Jordan Deifik, Orion Pientak, Ian Greenaway, Constantin Adam, Oliver Huber, Blair Hoplight, Randy Dickinson, Ingo Jahn, Catherine Vizmuller, Michelle Moller, Karl-Henrik Dagman, John Gray, Krys O'Dell, Sarah Pugliaresi, Henning Hoefer, Jacqueline Walker, Gregor Starosta, Brian Leger, Andrew Hickman, Alan McMaster, Matthew Wolf, Ryan Reynolds, Jennifer Doering, Kristofor Clark, Janek Kalda, Frank Jansen, Jesse Rodriguez, Maree-Louise Tobin, Heikki Ritola, Fabio Restrepo Londoño, Richard Dross, Manuel Huber, James Thomas, Pernilla Linder, Ben Bulcock, Le Mercer Stephenson, Sebastien Huot, Galen Loram.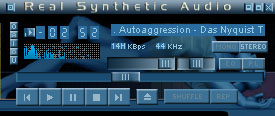 > Real Synthetic Audio Winamp Skins!
Michael Ridenour has made up the very first RSA themed Winamp skin! Download your copy by heading over to the goodies page! We're always looking for new submissions for all the categories there. Skins, Desktops, and banners!